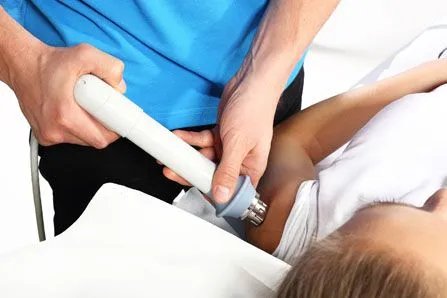 Our Chiropractic office near Waynesville is available for cold laser therapy.
If you suffer from chronic musculoskeletal pain, arthritic joints, nagging injuries, neuropathy, and other painful problems, you need a treatment approach that helps you feel and function better as safely and non-invasively as possible. Chiropractic adjustment can offer remarkable benefits, but Michael Hogan knows how to enhance those benefits even further through complementary techniques. Cold laser therapy could make all the difference in helping you reclaim your quality of life.
What Is Cold Laser Therapy?
Cold laser therapy, also called low-level laser therapy (LLLT) or photobiomodulation, uses amplified light delivered in a narrow beam to treat a variety of musculoskeletal ailments. Unlike surgical lasers, cold lasers penetrate the skin without burning or cutting.
The laser reaches into underlying tissues in need of treatment. There, it triggers increased cellular production of an energy source called ATP. Cells can then use this extra energy to rebuild and regenerate themselves.
Cold laser therapy also increases circulation in the tissues receiving treatment. This boost brings more oxygen and other healing ingredients to the cells while also helping tissues expel unwanted fluids or inflammatory byproducts. As a result, you experience a reduction in pain, swelling, and inflammation.
How Cold Laser Works With Chiropractic Care
Hogan team uses cold laser therapy as a sensible adjunct to chiropractic care. Many of the same conditions that we treat through chiropractic adjustment also respond well to cold laser therapy. Examples include:
Tendinitis or bursitis
Fibromyalgia
Neck or low-back pain
Carpal tunnel syndrome
Nerve damage and chronic neurological symptoms
Fractures or other acute injuries
Knee, foot, or other joint pain (including arthritis symptoms)
Research showed that sufferers from facet joint (spinal) pain who received both chiropractic care and cold laser therapy enjoyed a greater degree of improvement than patients who only received one or the other (or no treatment at all).
What to Expect During and After Cold Laser Therapy
Cold laser therapy doesn't cause any discomfort; the treatment itself usually feels warm and soothing. Each treatment you receive may relieve more of your symptoms, which is why we typically recommend a series of treatments. Many patients experience significant relief right away. For more information about spinal and cold laser therapy, contact Blue Mountain Chiropractic Center at 828-246-9555.
---
An injury or illness can lead to muscular atrophy and make it hard for muscles to contract. Inducing movement in an affected muscle can assist in the recovery process. Chiropractic Muscle Stimulation (E-Stim) is a therapy that causes muscles to contract and may reduce your discomfort during rehabilitation. Michael Hogan offers E-Stim and other non-invasive treatments to encourage the healing process. Learn about the benefits of E-Stim today.
How Does Chiropractic Muscle Stimulation Work?
Chiropractic Muscle Stimulation or E-Stim is a specialized medical treatment that uses electric currents to induce muscle contraction. It is non-invasive and clients may lay down while undergoing the therapy. Patients do not experience pain from the therapy. In fact, many find a session an enjoyable experience.
The Benefits of E-Stim
You may benefit from including E-Stim as part of an individualized treatment program. As a non-invasive therapy, E-Stim has shown to be an effective treatment for many. A care plan including this therapy offers significant benefits like:
Improving blood flow to an area of injury, promoting the healing process in affected areas.
Increasing muscle tone and muscle strength in weakened muscles.
Strengthening the link between muscle movement and your brain, making it easier to move from easier exercises to more complex tasks.
Preventing or slowing muscle atrophy, or a decrease of muscle mass.
Encouraging relaxation, as the therapy releases tension in muscles, and encourages endorphin production.
Individuals who have chronic conditions, such as Multiple Sclerosis (MS), and athletes who are looking to enhance their performance can both benefit from E-Stim. Those with MS can experience a reduction in muscle tension and discomfort after a session, making movement easier. Athletes can use E-Stim to reduce swelling and soreness after a workout. It can also be used to decrease muscle stiffness as part of injury prevention. Speak with Hogan today to explore your treatment options.
Start on the Path to Recovery
After undergoing an initial evaluation, E-Stim may be incorporated into an individualized treatment program to reduce pain and speed up recovery. Patients may pair E-Stim with massage therapy, chiropractic treatments, and other services at Blue Mountain Chiropractic Center. Patients undergoing E-Stim may need multiple treatments depending on their condition and their individual response.
Our experienced team makes it easy to get started. For more information about muscle stimulation, contact Blue Mountain Chiropractic Center at 828-246-9555.